Resilience is the theme of 2020 and the Broomfield real estate market is no different. July was a record breaking month and the rest of the summer continues to look promising.
Broomfield Real Estate Market Report | August 2020
It is a pleasure to share my Broomfield residential real estate market for August with you. This report, which is based on extensive personal research, offers you the opportunity to examine the 2020 market trends and relevant sales statistics and to explore what is happening in your neighborhood's micro market. I hope you will enjoy this report and find it both useful and enlightening.
Resilience is the theme of 2020. Even with the doom and gloom of the recent news, I still believe this is the right message. We have every reason to hope that we will push through fear and uncertainty to come out on the other side, stronger and better than ever before.
New York Times columnist Nicholas Kristof recently offered up an optimistic message in an article called, "We Interrupt This Gloom to Offer…Hope." He wrote about finding a sense of possibility and opportunity in the future. "Maybe national anguish can again be the midwife of progress," he wrote. Change is often driven by traumas. I look at the change already happening in real estate, and I am reassured by what I see. How can I do a better job to serve you, my valued friends, family and clients. We've already proven that we can do a lot of our work virtually. While nothing can replace face-to-face interactions, we don't have to physically be in an office to close a deal. Properties are still selling; they're just selling differently.
I'm not saying we don't still face enormous difficulties in 2020; surely we do. But there is opportunity to be found in the challenges — to persevere despite being a little bruised and battered. We've lost our innocence but not our drive. Some have called it a "calloused hope," and that kind of hope is often the most successful. Resilience is often thought of in terms of "bouncing back," but we are bouncing forward.
Click here or the images below to download the complete Broomfield Market Report for August 2020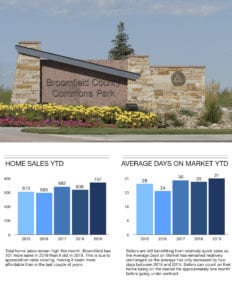 We're sitting in an optimal moment in time for homeowners who are ready to sell their houses and make a move this year. Today's homeowners are, on average, staying in their homes longer than they used to, and this is one factor driving increased homeowner equity. When equity grows, selling a house becomes increasingly desirable. Here's a breakdown of why it's a great time to capitalize on equity gain in today's market.
As average homeowner tenure lengthens and home prices rise, equity, a form of forced savings, can be applied forward to the purchase of a new home. CoreLogic explains:
"Over the past 10 years, the equity position of homeowners has positively changed as a result of more than eight years of rising home prices. As the economy climbed out of the recession in the first quarter of 2010, 25.9% or 12.1 million homes were still underwater, compared to the first quarter of 2020 when the negative equity share was at 3.4%, or 1.8 million properties. Borrowers have seen an aggregate increase of $6.2 trillion in home equity since the first quarter of 2010 and the average homeowner has gained about $106,100 in equity."
Increasing equity is enabling many homeowners who are ready to sell their current houses today to sell for an increased profit, and then reinvest their earnings in a new home. According to the Q2 2020 U.S. Home Sales Report from ATTOM Data Solutions, in the second quarter of 2020:
"Home sellers nationwide realized a gain of $75,971 on the typical sale, up from the $66,500 in the first quarter of 2020 and from $65,250 in the second quarter of last year. The latest figure, based on median purchase and resale prices, marked yet another peak level of raw profits in the United States since the housing market began recovering from the Great Recession in 2012."
If you've been taking a closer look at your house recently and are thinking it might be time for you to make a move, determining your equity position is a great place to start. Understanding how much equity you've earned over time can be a key factor in helping you realize the potential profits in your real estate investment and move toward your next homeownership goal.
With average home sale profits growing, it's a great time to leverage your equity and make a move, especially while the inventory of houses for sale and mortgage rates are historically low. If you're considering selling your house, let's connect today so you can better understand your home equity position and take one step closer to the home of your dreams.
I am proud to live in Broomfield and to serve our community. If you are considering selling your home or thinking of buying one, I would be grateful for the opportunity to earn your business.
Thank you again and enjoy the August edition of the Broomfield Real Estate Market Report. If you have any questions about an area or your home specifically I am always here to help.
Broomfield Real Estate Market Report | August 2020
Below is a link to the full version of my monthly market report for Broomfield. In addition to the information above you will find micro market information on the following neighborhoods:
Anthem Ranch
Aspen Creek
Country Estates
Lambertson Farms
McKay Landing
Redleaf
Silverleaf
The Broadlands
Don't see your neighborhood on the report? Contact me today and I will prepare a similar report about the market activity in your neighborhood and include it in all future months of the Broomfield Real Estate Market Report.
Download the Broomfield Real Estate Market Report for August here.
Helping You Make Informed Decisions Regarding Broomfield Real Estate
I produce this monthly report to provide you with a high level overview by looking at the patterns and trends.
I hope to help YOU make sense of the numbers so you can make informed decision. It is my hope that this report helps you to "See the Big Picture and All the Details!"
If you see a segment of the market that you would like additional help with understanding please contact me. Or if you desire a specific Property Valuation Report that I routinely prepare for my clients, please contact me.
This report covers Broomfield Single Family Homes and Broomfield Luxury Homes.
See the big picture and all the details of the Broomfield Real Estate Market and more –> Download the full market report as well as find more valuable information about Broomfield Real Estate here.
How can I help you with your Broomfield, CO Real Estate Needs?
This Broomfield Real Estate Market Report and the level of detail is representative of what you can expect from me as your Real Estate Agent.
I am a Colorado native and Broomfield resident with years of local knowledge and insight to help meet your needs, and I strive to exceed client expectations.
You May Be Wondering… What is My Home Worth?
Do you wonder what your home is worth in the current market? Do you desire a specific Property Valuation Report that I routinely prepare for my clients? Please contact me.
If you are considering buying or selling a home, I would appreciate the opportunity to earn your business (or that of a friend you think I could help).
Visit www.RefRealty.net. Phone: 720.351.8488 or John@RefRealty.net
For questions regarding this Broomfield Real Estate Market Report or the Broomfield Real Estate Market in general contact:
John Grandt
Real Estate Professional | Certified Real Estate Negotiation Expert
Coldwell Banker Ref Real Estate
720.351.8488
www.RefRealty.net