The real estate market is helping fuel the economic recovery since the emergence of COVID-19. This months Broomfield Real Estate Market Report provides all the important insight
Broomfield Real Estate Market Report | July 2020
It is a pleasure to share my Broomfield residential real estate market report for July 2020 with you. This report, which is based on extensive personal research, offers you the opportunity to examine the 2020 market trends and relevant sales statistics and to explore what is happening in your neighborhood's micro market. I hope you will enjoy this report and find it both useful and enlightening.
Pending Home Sales increased by 44.3% in May, registering the highest month-over-month gain in the index since the National Association of Realtors (NAR) started tracking this metric in January 2001.
In real estate, pending home sales is a key indicator in determining the strength of the housing market. It measures how many existing homes went into contract in a specific month. When a buyer goes through the steps to purchase a home, the final one is the closing.
Click here or the images below to download the complete Broomfield Market Report for July 2020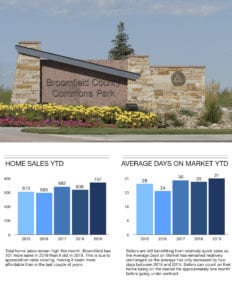 Why is this rebound important?
With the COVID-19 pandemic and a shutdown of the economy, we saw a steep two-month decline in the number of houses that went into contract. In May, however, that number increased dramatically. This jump means buyers are back in the market and purchasing homes right now.
This has been a spectacular recovery for contract signings and goes to show the resiliency of American consumers and their evergreen desire for homeownership…This bounce back also speaks to how the housing sector could lead the way for a broader economic recovery.
I am proud to live in Broomfield and to serve our community. If you are considering selling your home or thinking of buying one, I would be grateful for the opportunity to earn your business.
Thank you again and enjoy the April edition of the Broomfield Real Estate Market Report. If you have any questions about an area or your home specifically I am always here to help.
Broomfield Real Estate Market Report | July 2020
Below is a link to the full version of my monthly market report for Broomfield. In addition to the information above you will find micro market information on the following neighborhoods:
Anthem Ranch
Aspen Creek
Country Estates
Lambertson Farms
McKay Landing
Redleaf
Silverleaf
The Broadlands
Don't see your neighborhood on the report? Contact me today and I will prepare a similar report about the market activity in your neighborhood and include it in all future months of the Broomfield Real Estate Market Report.
Download the Broomfield Real Estate Market Report for July here.
Helping You Make Informed Decisions Regarding Broomfield Real Estate
I produce this monthly report to provide you with a high level overview by looking at the patterns and trends.
I hope to help YOU make sense of the numbers so you can make informed decision. It is my hope that this report helps you to "See the Big Picture and All the Details!"
If you see a segment of the market that you would like additional help with understanding please contact me. Or if you desire a specific Property Valuation Report that I routinely prepare for my clients, please contact me.
This report covers Broomfield Single Family Homes and Broomfield Luxury Homes.
See the big picture and all the details of the Broomfield Real Estate Market and more –> Download the full market report as well as find more valuable information about Broomfield Real Estate here.
How can I help you with your Broomfield, CO Real Estate Needs?
This Broomfield Real Estate Market Report and the level of detail is representative of what you can expect from me as your Real Estate Agent.
I am a Colorado native and Broomfield resident with years of local knowledge and insight to help meet your needs, and I strive to exceed client expectations.
You May Be Wondering… What is My Home Worth?
Do you wonder what your home is worth in the current market? Do you desire a specific Property Valuation Report that I routinely prepare for my clients? Please contact me.
If you are considering buying or selling a home, I would appreciate the opportunity to earn your business (or that of a friend you think I could help).
Visit www.RefRealty.net. Phone: 720.351.8488 or John@RefRealty.net
For questions regarding this Broomfield Real Estate Market Report or the Broomfield Real Estate Market in general contact:
John Grandt
Real Estate Professional | Certified Real Estate Negotiation Expert
Coldwell Banker Ref Real Estate
720.351.8488
www.RefRealty.net