Amazon and Coldwell Banker Partner with Turnkey Program for Homebuyers
Two of the biggest names in real estate and e-commerce, Amazon and Coldwell Banker, have partnered to create the TurnKey program for homebuyers.
What is TurnKey?
TurnKey is a program for homebuyers that provides a smart home package and other move-in assistance that allows for a smoother transition when moving into a new home.
In an article posted on Inman.com, Pat Bigatel, director of Amazon Home Services said "customers can be overwhelmed when moving, and we're excited to be working with Realogy (Coldwell Bankers parent company) to offer homebuyers a simplified way to settle into a new home."
"The Amazon Move-In Benefit will enable homebuyers to adapt the offering to their needs — from help assembling furniture, to assisting with smart home device set up, to a deep clean, and more."
The aim of the program is to improve upon the post-closing process. While I provide concierge service from the introductory meeting to closing day to each of my clients, this program will allow me to provide an even higher level of service by providing services well beyond closing day.
What is included in the TurnKey program?
After closing on your home, Amazon connects you with services and experts in your area to help turn your house into a home. You will receive complimentary products and Amazon Home Services courtesy of Coldwell Banker and Realogy. These products are valued between $1,000 and $5,000. Based on the price of the home, you will receive one of three packages.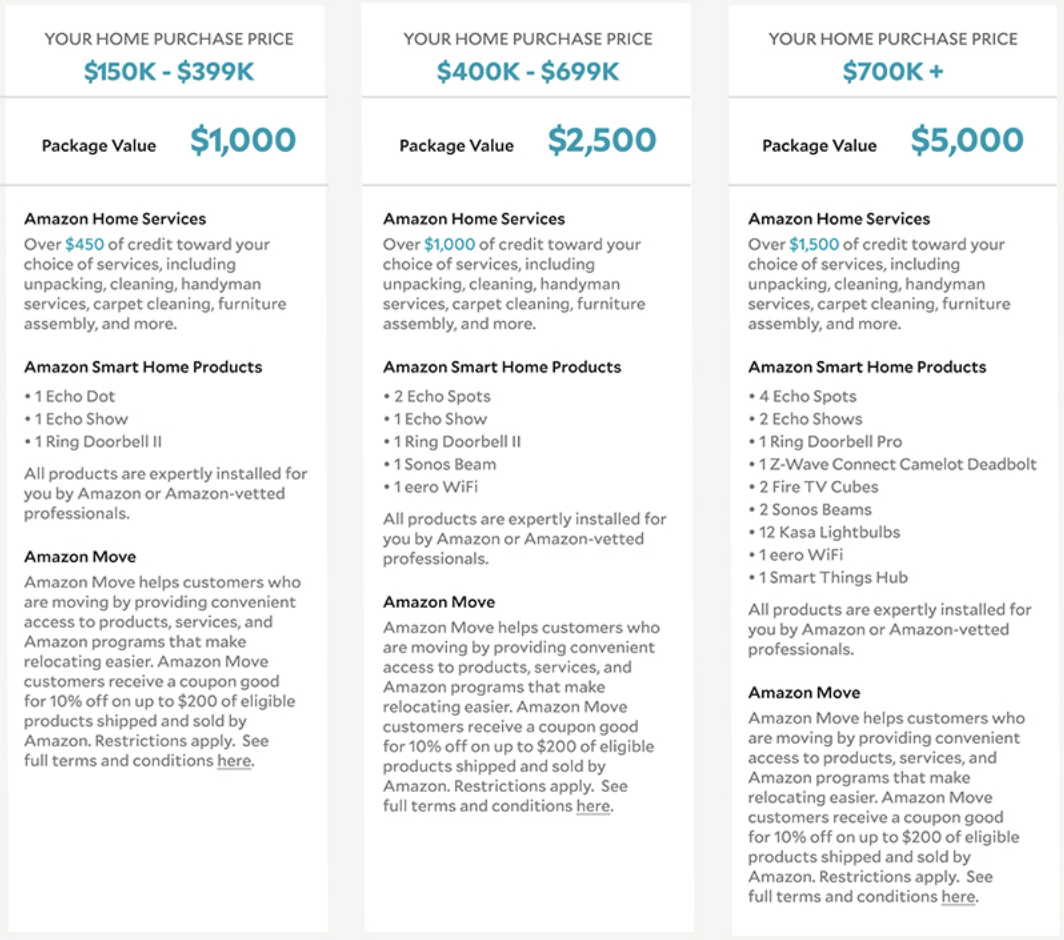 The move-in benefits include a selection of Amazon Home Services like a deep cleaning or a handyman to assemble furniture, hang pictures, install shelving and more. You also receive a suite of smart home products installed by Amazon or Amazon-vetted professionals.
How Do You Sign Up For TurnKey
The registration process is simple. Simply tell me or your Coldwell Banker agent you are interested in the TurnKey program and I will register you through the internal portal. Once your home closes you will receive your TurnKey products and services.
Frequently Asked Questions
Is it free to register for this program?
Yes, there is no fee to register for the program.
Are there some hidden costs to this program after I sign up?
No. After you purchase your home, you receive your Amazon Move-In Benefit, courtesy of Coldwell Banker and Realogy, based on the value of the home you purchase. The smart products are shipped directly to your new home. The Amazon Home Services are provided in the form of an Amazon Gift Card.
What products are installed?
Amazon or Amazon vetted professionals will install the smart products that are a part of your Move-In Benefit. This does not include products you purchase separately.
Can I select the home services I want?
Yes, you can select the services you want using the gift card credit value you receive as part of your Amazon Move-In Benefit.
How can I help you with Your Broomfield, CO Real Estate Needs?
I am consistently among the Top Real estate agents in Broomfield and I strive to exceed client expectations.
You May Be Wondering… What is My Home Worth?
Do you wonder what your home is worth in the current market? Do you desire a specific Property Valuation Report that I routinely prepare for my clients? Please contact me.
If you are considering buying or selling, I would appreciate the opportunity to earn your business (or that of a friend you think I could help).
Visit www.refrealty.net. Phone: 720.351.8488, or John@RefRealty.net
For questions regarding the Broomfield Real Estate Market in general contact:
John Grandt
Realtor® | Real Estate Negotiation Specialist
Global Luxury Property Specialist
John@RefRealty.net
720.351.8488