Anthem Highlands Quick Facts:
Styles: Detached Single-Family, Attached Single-Family (Paired Homes)
Square Footage: 1,400-6,600+
Price: $400k-$1.3 million
Pool: Yes; Olympic size lap pool and kids "zero-entry" pool with 2 waterslides
Rec Center: 32,000 sq ft facility with fitness floor, basketball courts, lounge, child care and multi-purpose rooms.
HOA: Approx. $135/month
School District: Adams 12 Five Star Schools
Website: http://myahca.com/
Location
Anthem Highlands is located in north Broomfield with boundaries of E-470 to the south, Hwy 7 to the north, Lowell Blvd to the west and Sheridan Pkwy to the east. Commute time to Denver, Boulder and DIA are all approximately 25 minutes.
Homes in Anthem Highlands
Whether you are looking for a smaller "starter" home or a larger "forever" home, Anthem Highlands has a great option for you.
First time homebuyers or buyers looking for something a smaller may find the paired homes located in the northeast corner of the neighborhood interesting. These homes range from approximately 1,400 square feet to nearly 2,500 square feet and priced starting at approximately $425,000.
If you prefer a detached single family home over the paired home option, but still want something a little smaller there is an options for you as well. These homes are primarily located on the northern boundary of the neighborhood. With both 2-story and ranch plans available these homes are perfect for many people including first time homebuyers and others who may be looking to downsize. Prices start at approximately $575,000.
The most common homes in the community are larger detached single family homes. These homes range in size from 2,500 square feet to over 6,600 square feet. Prices range from $600,000 to $1.3 million.
Anthem Highlands Recreation
Parkside Community Center
The Parkside Community Center located at 3624 Parkside Center Drive is a 32,000 square foot resort-style community center. The expansive facility is a daily destination for every family member, offering more than most high-end health clubs including yoga, spinning, tennis, volleyball, basketball, swimming and every kind of endurance training you can imagine.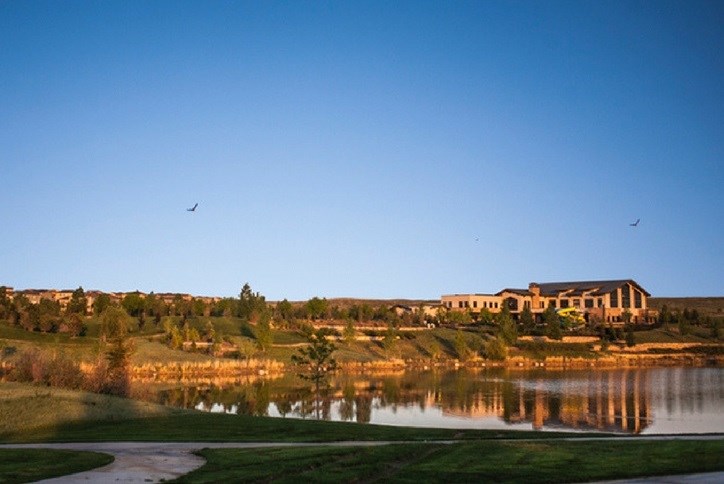 The fitness facility, located on the second floor, is home to multiple types of cardiovascular equipment including treadmills, ellipticals, stair climbers, spin bikes and more. You will also find weight training machines and free weights throughout the fitness floor.
On the main floor you will find basketball courts, lounge, child care, multi-purpose rooms as well as the administrative offices for the community.
During summer, the Parkside Community Center becomes the hub of the neighborhood due in large part to the swimming pools available to Anthem Highlands residents and their guests. There are two pools at the Parkside Center. The first is a full-size lap pool that is home to the Anthem Alligators swim team. A little further down the path is the childrens "zero-entry" pool that includes two waterslides as well as other water features perfect for kids.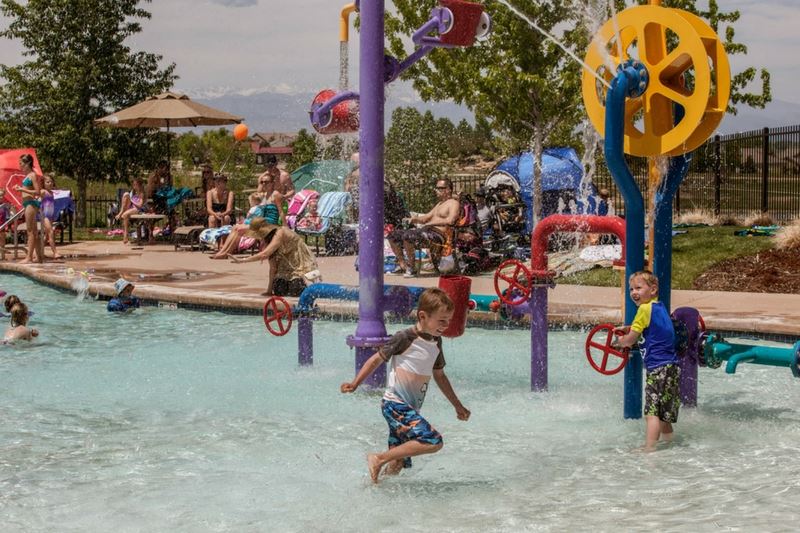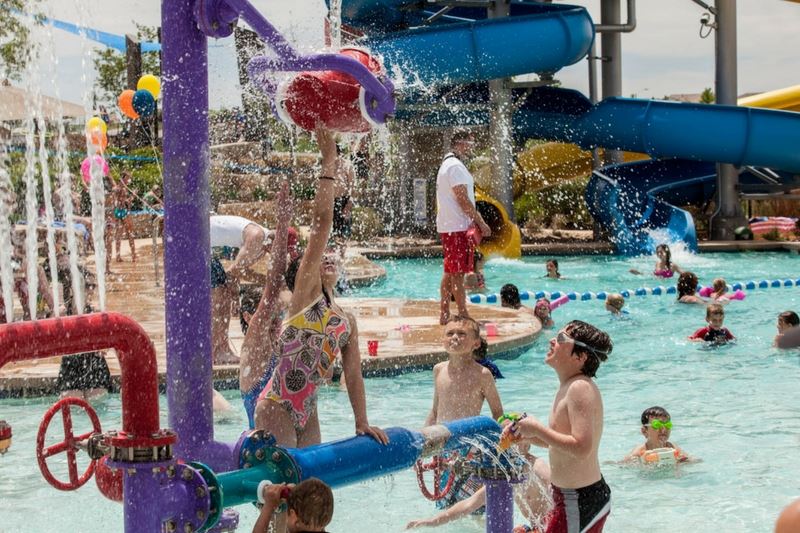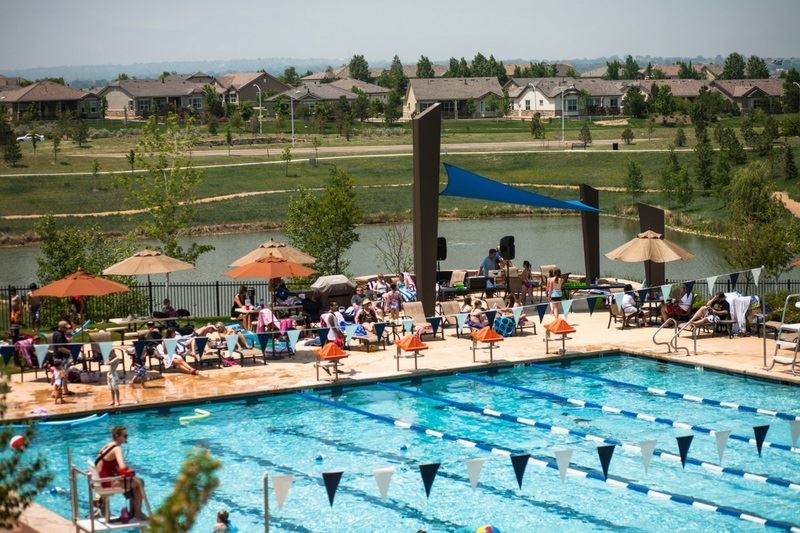 Anthem Highlands Parks and Trails
In addition to a new Broomfield park I wrote about earlier this year, Anthem is home to 22 parks and playgrounds as well as 48 miles of trails. Looking for a park in Anthem to visit? The map below is a complete directory for parks and playgrounds within Anthem.
Resident Activities
Anthem Highlands has a wide range of clubs and activities available to its residents. Below is a look back at just a few of the community events you might experience as a resident:
Splash Bash Summer Kickoff
Concert in the Park Summer Concert Series
Broncos Tailgate
Summer Car Show
Food Truck Nights
The Big Picnic (A week long BBQ taking place in a different neighborhood location each night)
Summer Sendoff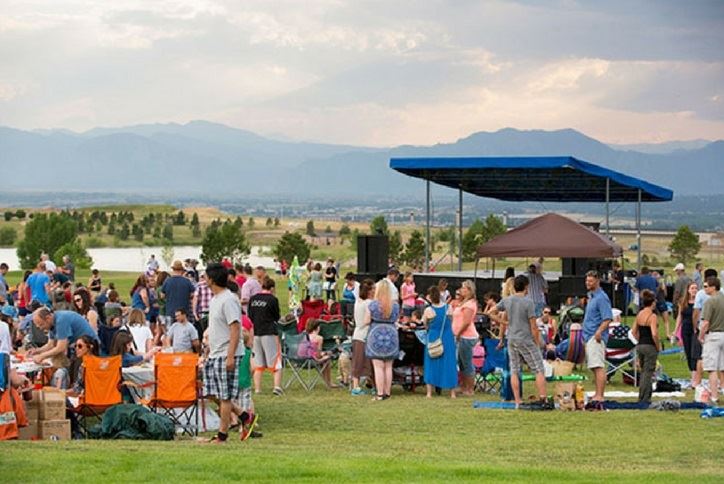 Anthem Highlands Schools
One of the most important considerations for many parents buying Broomfield real estate are the schools their children will attend. Anthem Highlands is located in the Adams 12 Five Star Schools District. Just last year, the neighborhood welcomed a brand new P-8 school located in the heart of the community. Thunder Vista is now the designated elementary and middle school for children living in Anthem Highlands.
High school aged students generally attend Legacy High School but the community offers several other options for parents.
Prospect Ridge Academy offers parents a local charter school also located in the neighborhood. PRA as it is often called provides a choice for parents with children from kindergarten through high school.
Other local school options include Holy Family High School, Peak to Peak, Stargate School and The Dawson School.
For more information on local schools I recommend visiting Great Schools.
Shopping and Dining
Perhaps the second most important consideration outside of the home when purchasing Broomfield real estate is the nearby availability of shopping and dining. While there is great availability for shopping with the King Soopers Marketplace located across Hwy 7 from the neighborhood, there are only a small handful of dining options within walking or biking distance of Anthem Highlands. By visiting Walk Score, you will find Anthem Highlands is very car-dependent with a walk score of zero and bike score of 6. This should change in the near future with some new Broomfield real estate developments I wrote about in a recent blog.
Until then Anthem Highlands residents are limited to restaurant options in the Orchard Shopping Center and Larkridge Shopping Center. Even more options are available if residents venture west to Lafayette or Boulder.
Anthem Highlands Pros and Cons
With every neighborhood there are always pros and cons. By far the largest pro of the neighborhood is the Parkside Community Center. There is no other community center like it in the area. Many families take advantage of this by cancelling gym memberships which equates to real savings. A second significant pro to the community is the homes themselves. Many homes have views of the mountains including the flatirons and Mt. Evans. Additionally, the majority of homes are new enough so they feature many styles that fit todays design trends.
The biggest con to living in Anthem Highlands is the availability of restaurants and shops within walking distance. This seems to be changing and ideally there will be more dining options a short walk away within the next few years.
Final Thoughts
Anthem Highlands continues to be one of the most in-demand neighborhood in the Broomfield real estate market. There are homes available for nearly every price range and need. If you are looking for a home in Broomfield now or in the near future I would highly recommend considering Anthem Highlands.


Sorry we are experiencing system issues. Please try again.