Continued Broomfield Development Brings More Options For Residents
There are some exciting Broomfield developments planned and nearing completion in and around the City and County of Broomfield including Top Golf, Ikea, several restaurants as well as retail shops. These developments are spread throughout the area but are primarily located in the northern sections of Broomfield due to the availability of land for new developments.
Below you will find info on many of the projects planned or nearing completion. While certainly not an all-inclusive list I have highlighted the developments I have been asked about personally.
In addition to the developments below, I recently wrote about the Baseline development in northern Broomfield which can be found by clicking here.
Vista Highlands
The Vista Highlands development, located on the Northeast corner of Highway 7 and Sheridan Parkway features over 40,000 sq ft of leased space and will include a wide range of businesses serving the area. Restaurants will include Jimmy John's subs, Blake's Tap House, MOD, KFC, Panda Express and Starbucks. Additionally, you will find Great Clips, a nail salon, Chase Bank and Auto Zone.
With the large number of shops and demand in this area of Broomfield parking will certainly be at a premium and the development has 1,127 spaces planned to meet this demand.
With expected delivery of units to tenants scheduled for the third quarter of 2019, I would expect the first businesses to open in late 2019 or early 2020.
TopGolf
TopGolf has quickly become one of the most popular recreation activities around. The first TopGolf location in Colorado, located in Centennial opened in August of 2015 and serves clients across multiple states. Due to its popularity TopGolf decided to open a second Colorado location, although it was met with legal action for its first proposed location. A Thornton homeowner claimed that the 14 acres the project was planned for was not properly zoned. Additionally, nearby homeowners were concerned with the noise and light the facility would produce.
The new Thornton location located at 160th Avenue and I-25 will feature 102 bays a full-service restaurant, three bars, and a rooftop terrace with fire pits and 3,000 square feet of private event space. Additionally, the new location will create 500 full-time and part-time positions.
If you are unfamiliar with TopGolf, more information can be found here.
TopGolf is expected to open in late 2019.
Ikea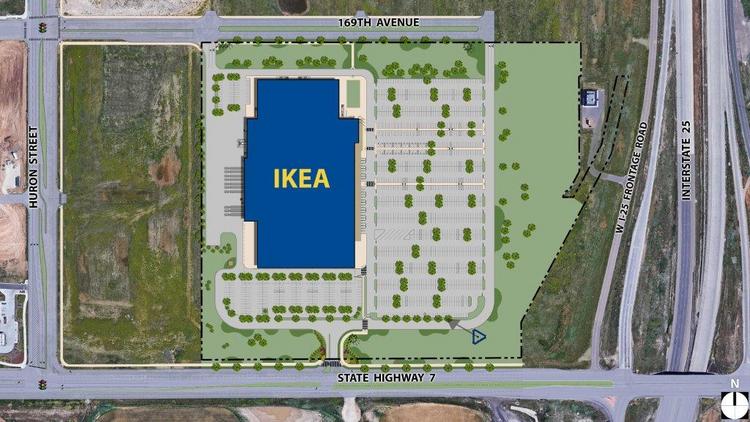 This is one of the Broomfield developments that plans are still up in the air for. The original plan was for the new store to mirror the Ikea store located in Centennial that opened in 2011. However, Ikea has claimed the rapidly changing retail market has changed these plans. To be fit for long term growth, Ikea is changing their business model to more properly align with todays consumer.
As a result, construction of the new store has not yet begun and permits have not been filed with Broomfield. At this time the expected start date for construction is 2020 or 2021.
More information on this project can be found here.
144th Avenue Service Center
The demands upon Broomfield's existing Public Works Smith Service Center located at 3001 W. 124th Avenue, have continued to increase since its construction in 1995. Broomfield's total acreage has increased by 24% and population has more than doubled with approximately 65,000 residents. This has created the need for an additional service center to adequately accommodate Broomfield as a whole.
The 12.2 acre operational site and 4.2 acre stormwater detention pond will be located northwest of 144th Avenue and Lowell Boulevard. The proposed plan includes three buildings, the administration and shop building, fleet maintenance, and heated vehicle storage.
I have included a few of the concept plans for the new building below. A complete set of these plans can be found by clicking here.
Construction of the new service center is expected to take approximately 12 months and should be completed in April 2020. Further information on this project can be found by clicking here.
Final Thoughts
As I previously mentioned, this is only a small sample size of the current Broomfield development. It is an exciting time to be a Broomfield resident with many food and entertainment options opening frequently. Below is a more inclusive map of Broomfield development. For more information please visit Broomfield.org
Broomfield Development

How can I help you with Your Broomfield, CO Real Estate Needs?
I am consistently among the Top Real estate agents in Broomfield and I strive to exceed client expectations.
You May Be Wondering… What is My Home Worth?
Do you wonder what your home is worth in the current market? Do you desire a specific Property Valuation Report that I routinely prepare for my clients? Please contact me.
If you are considering buying or selling, I would appreciate the opportunity to earn your business (or that of a friend you think I could help).
Visit www.refrealty.net. Phone: 720.351.8488, or John@RefRealty.net
For questions regarding the Broomfield Real Estate Market in general contact:
John Grandt
Realtor® | Real Estate Negotiation Specialist
Global Luxury Property Specialist
John@RefRealty.net
720.351.8488