This Broomfield Real Estate Market Report takes a look at the real estate market in Broomfield for September 2019 as well as some of Broomfield's most popular neighborhoods.
It is a pleasure to share my monthly review of the Broomfield residential real estate market with you. This report, which is based on extensive personal research, offers you the opportunity to examine the 2019 market trends and relevant sales statistics and to explore what is happening in your neighborhood's micro market. I hope you will enjoy this report and find it both useful and enlightening.
Children are back in school and Labor Day is in the past but now can still be a good time to buy or sell a home. In fact, September and October are two of the busiest buying and selling months of the year. I recently wrote a blog that discusses late Summer buying and selling and the advantages and disadvantages to both. If you are still considering a move this year, I would encourage you to visit my website and read that blog post at https://www.northstarcompass.net/buying-or-selling-your-broomfield-home-in-late-summer/.
Homes in Broomfield continue to sell at a record pace in 2019. 88 more homes have sold in 2019 than in the same time period last year. Average sales price continues to rise as well, although slightly slower than has been seen in recent years. Average days on market has also gone up slightly but sellers can still expect a home to be sold after about a month of being on the market.
The best news for buyers is that interest rates remain low which creates more buying power. Additionally, options such as 3% down conventional mortgages are also available which open up homes that are not FHA or VA eligible. If you are interested in learning more about these options contact me so we can discuss your personal situation further.
Click here or the images below to download the complete Broomfield Market Report for September 2019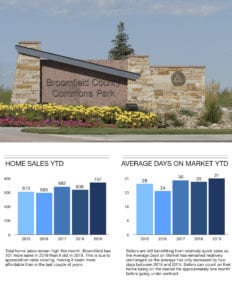 I am proud to live in Broomfield and to serve our community. If you are considering selling your home or thinking of buying one, I would be grateful for the opportunity to earn your business.
Thank you again and enjoy the September edition of the Broomfield Real Estate Market Report. If you have any questions about an area or your home specifically I am always here to help.
Broomfield Real Estate Market Report | September 2019
Below is a link to the full version of my monthly market report for Broomfield. In addition to the information above you will find micro market information on the following neighborhoods:
Anthem Highlands
Anthem Ranch
Aspen Creek
Country Estates
Lambertson Farms
McKay Landing
Redleaf
Silverleaf
Spruce Meadows
The Broadlands
Wildgrass
Don't see your neighborhood on the report? Contact me today and I will prepare a similar report about the market activity in your neighborhood and include it in all future months of the Broomfield Real Estate Market Report.
Download the Broomfield Real Estate Market Report for September here.
Helping You Make Informed Decisions Regarding Broomfield Real Estate
I produce this monthly report to provide you with a high level overview by looking at the patterns and trends.
I hope to help YOU make sense of the numbers so you can make informed decision. It is my hope that this report helps you to "See the Big Picture and All the Details!"
If you see a segment of the market that you would like additional help with understanding please contact me.  Or if you desire a specific Property Valuation Report that I routinely prepare for my clients, please contact me.
This report covers Broomfield Single Family Homes and Broomfield Luxury Homes.
See the big picture and all the details of the Broomfield Real Estate Market and more –> Download the full market report as well as find more valuable information about Broomfield Real Estate here.
How can I help you with your Broomfield, CO Real Estate Needs?
This Broomfield Real Estate Market Report and the level of detail is representative of what you can expect from me as your Real Estate Agent.
I am a Colorado native and Broomfield resident with years of local knowledge and insight to help meet your needs, and I strive to exceed client expectations.
You May Be Wondering… What is My Home Worth?
Do you wonder what your home is worth in the current market? Do you desire a specific Property Valuation Report that I routinely prepare for my clients? Please contact me.
If you are considering buying or selling a home, I would appreciate the opportunity to earn your business (or that of a friend you think I could help).
Visit www.RefRealty.net. Phone: 720.351.8488 or John@RefRealty.net
For questions regarding this Broomfield Real Estate Market Report or the Broomfield Real Estate Market in general contact:
John Grandt
Real Estate Professional | Certified Real Estate Negotiation Expert
Coldwell Banker Residential Brokerage | Ref Realty
720.351.8488
www.RefRealty.net