Change is the theme of 2020 and the Broomfield real estate market is no exception. It is truly a unique time with advantages for buyers and sellers, and can best be described as a market for the moment.
Broomfield Real Estate Market Report | September 2020
It is a pleasure to share my Broomfield residential real estate market for September with you. This report, which is based on extensive personal research, offers you the opportunity to examine the 2020 market trends and relevant sales statistics and to explore what is happening in your neighborhood's micro market. I hope you will enjoy this report and find it both useful and enlightening.
There is no question we have all been profoundly impacted by the pandemic. Our daily lives have been upended with unprecedented challenges for schools, businesses, and working from home. Our priorities have shifted too, as we focus on our health, happiness, safety and loved ones.
The housing market is also reflecting the changes we are all experiencing. Recent reports from the National Association of Relators (NAR) supports what I've been hearing from my buyers and sellers. What are some of the ways my clients have modified their behavior during the health crisis? How have I responded as their real estate agent to these changes? Here are the top three changes I am seeing:
1. Communication is king. I've quickly adjusted to the new social-distancing reality. Keeping clients' spirits up with regular check-ins and connecting with them virtually has become a critical routine. In fact, there is more agent-to-client communication now than ever before. Adaptability is the word of the moment.
2. Wish lists are shifting. Buyers are re-prioritizing features they're seeking in a new home. NAR research found that the top feature on a buyers' list today is a dedicated home office space or space(s). Many families have working adults or need a quiet space for their children and remote learning. Also on the top of the list are: large yards, pools, and recreation or media rooms. As families are looking for every amenity to entertain at home, they are willing to push harder for a little more space with more options, and even willing to drive farther from traditional downtown areas in order to get it.
3. Storytelling is still essential to selling. The new showing environment has impacted how buyers' perceive properties. Telling a compelling story is essential to a smooth sales process. I've always told the lifestyle-story of my listings through professional staging, and that first impression is even more critical now. Think about it: a buyer's first interaction with a property looks very different today than it did pre-pandemic. Buyers have new distractions when seeing a property for the first time: they're being asked to put on masks, booties, wash hands, and perform temperature checks before they even step inside the property. In Colorado, there is a mandated limit of two people from the same household and one agent in a property at any one time. Kids have to wait outside in the car and Grandma and Grandpa can't come along either. Property preparation and storytelling are key since your audience is already managing other distractions.
Change is the theme of 2020 and the real estate market is no exception. The market has never been hotter with historically low interest rates and low inventory levels. It is truly a unique time with advantages for buyers and sellers, and can best be described as a market for the moment.
Click here or the images below to download the complete Broomfield Market Report for September 2020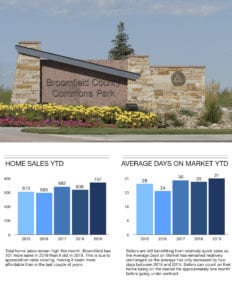 August was another great month for sales in Broomfield. There has been a noticeable shift in demand for the higher price points and this is evident by a lower number of days on market for the three highest price segments. While days on market decreases for the higher priced homes, the highest number of total sales still comes in the $300k-$500k price segment with 64 total sales in August alone.
The average sales price for a home is nearing $600k. This is remarkable considering the typical buying and selling season was halted due to the COVID-19 pandemic. Pent up buyer demand has pushed the average sale price up consistently over the past several months. If this continues, the average sales price may go above $600k in September or October.
I am proud to live in Broomfield and to serve our community. If you are considering selling your home or thinking of buying one, I would be grateful for the opportunity to earn your business.
Thank you again and enjoy the September edition of the Broomfield Real Estate Market Report. If you have any questions about an area or your home specifically I am always here to help.
Broomfield Real Estate Market Report | September 2020
Below is a link to the full version of my monthly market report for Broomfield. In addition to the information above you will find micro market information on the following neighborhoods:
Anthem Ranch
Aspen Creek
Country Estates
Lambertson Farms
McKay Landing
Redleaf
Silverleaf
The Broadlands
Don't see your neighborhood on the report? Contact me today and I will prepare a similar report about the market activity in your neighborhood and include it in all future months of the Broomfield Real Estate Market Report.
Download the Broomfield Real Estate Market Report for September here.
Helping You Make Informed Decisions Regarding Broomfield Real Estate
I produce this monthly report to provide you with a high level overview by looking at the patterns and trends.
I hope to help you make sense of the numbers so you can make informed decision. It is my hope that this report helps you to "See the Big Picture and All the Details!"
If you see a segment of the market that you would like additional help with understanding please contact me. Or if you desire a specific Property Valuation Report that I routinely prepare for my clients, please contact me.
This report covers Broomfield Single Family Homes and Broomfield Luxury Homes.
See the big picture and all the details of the Broomfield Real Estate Market and more –> Download the full market report as well as find more valuable information about Broomfield Real Estate here.
How can I help you with your Broomfield, CO Real Estate Needs?
This Broomfield Real Estate Market Report and the level of detail is representative of what you can expect from me as your Real Estate Agent.
I am a Colorado native and Broomfield resident with years of local knowledge and insight to help meet your needs, and I strive to exceed client expectations.
You May Be Wondering… What is My Home Worth?
Do you wonder what your home is worth in the current market? Do you desire a specific Property Valuation Report that I routinely prepare for my clients? Please contact me.
If you are considering buying or selling a home, I would appreciate the opportunity to earn your business (or that of a friend you think I could help).
Visit www.RefRealty.net. Phone: 720.351.8488 or John@RefRealty.net
For questions regarding this Broomfield Real Estate Market Report or the Broomfield Real Estate Market in general contact:
John Grandt
Real Estate Professional | Certified Real Estate Negotiation Expert
Coldwell Banker Ref Real Estate
720.351.8488
www.RefRealty.net