Utilizing real estate technology to help buyers view Broomfield homes is critical as we continue to navigate the market during COVID-19.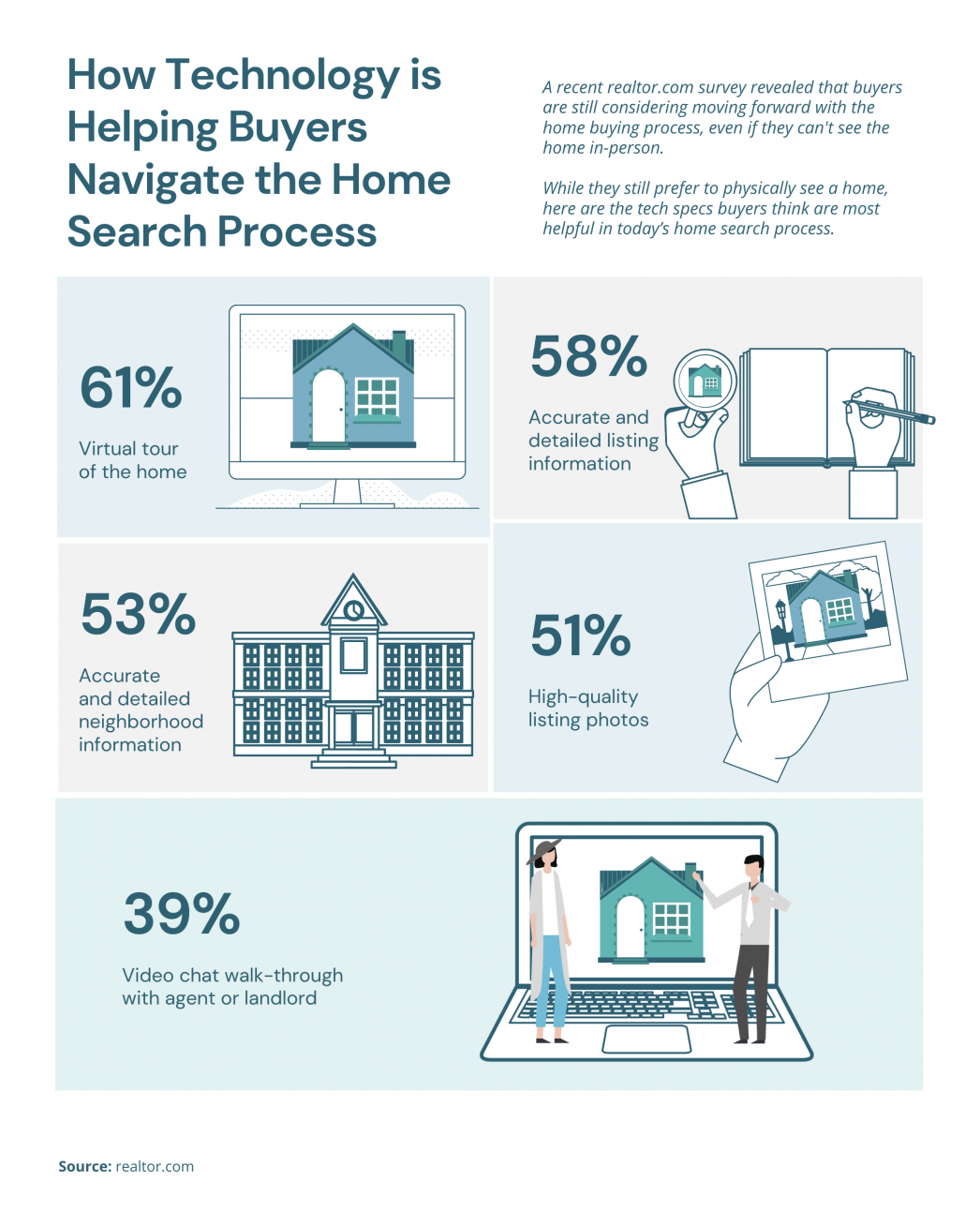 What Buyers Are Saying
A recent realtor.com survey revealed that buyers are still considering moving forward with the homebuying process, even if they can't see the home in-person. While they still prefer to physically see a home, real estate technology such as virtual home tours and accurate listing information top the list of tech specs buyers find most helpful in today's process.
What Real Estate Technology Is Being Used?
There are many different pieces technology available to Realtors and their sellers including 3D virtual reality tours and HD video. Below is a list of the different technology items I use when listing a home.
Matterport 3D virtual reality tour
HD Video Tour
Aerial Photography
Twilight Photography
HD Photography
Matterport 3D Virtual Reality
The Matterport 3D virtual reality tour is the closest a buyer can get to being in a home without actual stepping inside. It is created with 3D camera scans throughout the home and pieces these images together enabling the viewer to virtually walk through the home.
Explore this beautiful Anthem Highlands home using the Matterport 3D virtual reality tour.
HD Video
The HD video tour does not allow the viewer the in-depth look that a Matterport tour does, but still allows the viewer to get a better sense of a home compared to photos.
This is seen in the video of the same Anthem Highlands home below.
Aerial Photography
Using a drone to take photos of the home from above allows the buyer to see the entire lot and surrounding area. For buyers who are looking for more privacy or a larger yard this is a great tool for them to see the area surrounding the home.
Twilight Photography
Photos taken at night are a great way for a home to stand out among the crowd. This also gives buyers a feel for what to expect as the sun goes down at their new home.
HD Photography
A staple of every listing is photography. Not all photos are created equal and buyers will benefit from being able to see a home that has great HD photos.
A Homes Complete Marketing Plan
Utilizing the technology above is only a small piece of the puzzle. Providing a buyer with accurate home and neighborhood information is critical as well. Additional marketing items shown in the video below allows a buyer to write an offer confidently even in todays market.
Final Thoughts
The current Broomfield real estate market is in uncharted territory. We have never experienced a situation such as the COVID-19 pandemic and are facing new challenges everyday. Real estate technology such as Matterport and HD video allows buyers to see homes from afar. This keeps us all safe and the real estate market moving forward.
How Can I Help You With Your Broomfield Real Estate Needs?
I am consistently among the Top Real estate agents in Broomfield and I strive to exceed client expectations.
You May Be Wondering… What is My Home Worth?
Do you wonder what your home is worth in the current market? Do you desire a specific Property Valuation Report that I routinely prepare for my clients? Please contact me.
If you are considering buying or selling, I would appreciate the opportunity to earn your business (or that of a friend you think I could help).
Visit www.refrealty.net. Phone: 720.351.8488, or John@RefRealty.net
For questions regarding the Broomfield Real Estate Market in general contact:
John Grandt
Realtor® | Real Estate Negotiation Specialist
Global Luxury Property Specialist
John@RefRealty.net
720.351.8488