Broomfield Real Estate Market Report | November 2019
It is a pleasure to share my monthly review of the Broomfield residential real estate market with you. This report, which is based on extensive personal research, offers you the opportunity to examine the 2019 market trends and relevant sales statistics and to explore what is happening in your neighborhood's micro market. I hope you will enjoy this report and find it both useful and enlightening.
As we move forward into the holiday season the Broomfield real estate market continues to thrive in 2019. Total sales, average sales price and average price per square foot continue to rise in our amazing community. When I speak with buyers and seller there is still the perception that the market is slowing. This is true in comparison to the previous 24 months where our market experienced historical appreciation. However, this does not mean that we are in the middle of a real estate crisis by any means. In fact, single family homes in Broomfield have appreciated 13.5% in 2019, which is  more than 10% higher than the historic average of approximately 3%.
If you are considering selling your home this winter it is important to be prepared. Selling a home this time of year has its advantages but only if you take the proper steps. I recently wrote two blogs about this topic. The first is about selling your home in winter and the second is 3 keys to selling your home quickly. I encourage you to read both of these posts and contact me if you have any questions or would like to discuss this topic further.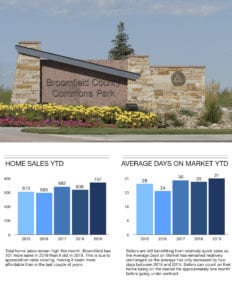 I am proud to live in Broomfield and to serve our community. If you are considering selling your home or thinking of buying one, I would be grateful for the opportunity to earn your business.
Thank you again and enjoy the November edition of the Broomfield Real Estate Market Report. If you have any questions about an area or your home specifically I am always here to help.
Broomfield Real Estate Market Report | November 2019
The recent snow fall leaves no doubt that the winter selling season is here. Broomfield continues to be one of the best real estate markets in the Denver metro area. Single family homes are selling for over 99% of list price even during a time that most people perceive as the slow time during the year. The difference in sales price on a $500,000 home between last year and this year is just $2,500. Today, that $500,000 home would sell for $496,000 on average.
The most active price point in Broomfield over the past month was the $500k-$750k tier. In total, 51 homes sold last month for a total of 358 in 2019. This is still less than the 440 homes that have sold for the year in the $300k-$500k tier where 35 homes sold in October. The average days on market increased slightly as well nearly across the board. This should not come as a surprise as we near the holiday season and sales typically slow.
Home values have increased by approximately 2.5% year-over-year in Broomfield. This falls just under the historical average of 3%. The average home value has gone up $13,637 in the past 12 months. It is clear that appreciation has slowed but the most important thing to recognize is that homes are still appreciating near the historic average.
Below is a link to the full version of my monthly market report for Broomfield. In addition to the information above you will find micro market information on the following neighborhoods:
Anthem Highlands
Anthem Ranch
Aspen Creek
Country Estates
Lambertson Farms
McKay Landing
Redleaf
Silverleaf
Spruce Meadows
The Broadlands
Wildgrass
Don't see your neighborhood on the report? Contact me today and I will prepare a similar report about the market activity in your neighborhood and include it in all future months of the Broomfield Real Estate Market Report.
Download the Broomfield Real Estate Market Report for November here.
Helping You Make Informed Decisions Regarding Broomfield Real Estate
I produce this monthly report to provide you with a high level overview by looking at the patterns and trends.
I hope to help YOU make sense of the numbers so you can make informed decision. It is my hope that this report helps you to "See the Big Picture and All the Details!"
If you see a segment of the market that you would like additional help with understanding please contact me.  Or if you desire a specific Property Valuation Report that I routinely prepare for my clients, please contact me.
This report covers Broomfield Single Family Homes and Broomfield Luxury Homes.
See the big picture and all the details of the Broomfield Real Estate Market and more –> Download the full market report as well as find more valuable information about Broomfield Real Estate here.
How can I help you with your Broomfield, CO Real Estate Needs?
This Broomfield Real Estate Market Report and the level of detail is representative of what you can expect from me as your Real Estate Agent.
I am a Colorado native and Broomfield resident with years of local knowledge and insight to help meet your needs, and I strive to exceed client expectations.
You May Be Wondering… What is My Home Worth?
Do you wonder what your home is worth in the current market? Do you desire a specific Property Valuation Report that I routinely prepare for my clients? Please contact me.
If you are considering buying or selling a home, I would appreciate the opportunity to earn your business (or that of a friend you think I could help).
Visit www.RefRealty.net. Phone: 720.351.8488 or John@RefRealty.net
For questions regarding this Broomfield Real Estate Market Report or the Broomfield Real Estate Market in general contact:
John Grandt
Real Estate Professional | Certified Real Estate Negotiation Expert
Coldwell Banker Residential Brokerage | Ref Realty
720.351.8488
www.RefRealty.net